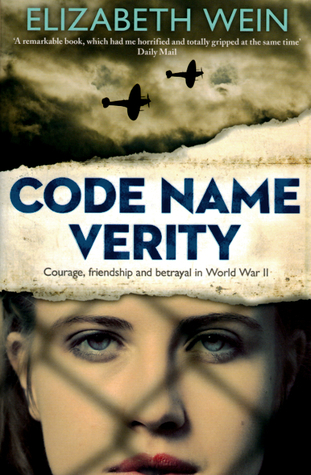 (Goodreads) I have two weeks. You'll shoot me at the end no matter what I do.



That's what you do to enemy agents. It's what we do to enemy agents. But I look at all the dark and twisted roads ahead and cooperation is the easy way out. Possibly the only way out for a girl caught red-handed doing dirty work like mine — and I will do anything, anything, to avoid SS-Hauptsturmführer von Linden interrogating me again.





He has said that I can have as much paper as I need. All I have to do is cough up everything I can remember about the British War Effort. And I'm going to. But the story of how I came to be here starts with my friend Maddie. She is the pilot who flew me into France — an Allied Invasion of Two.





We are a sensational team.
The Short Story? -
A powerful novel about loyalty, friendship and sacrifice. While I didn't feel like the book lived up to all the hype and raving reviews, it was nevertheless a heart-wrenching read that will move readers to tears (if you're a sucker for sob stories like me). The book was a little slow but the ending was absolutely devastating and definitely worth the build up. Well-written, Wein clearly knows her stuff about planes and war, there are a lot of technical aspects that in this book and it's very detailed and interesting. The characters were endearing, I absolutely loved both of the girls. Overall, it was a really good book, I think I would have enjoyed it more if I hadn't gone into reading with such high expectations.
The Long Story? - I was so excited to read Code Name Verity after reading so many reviews from other bloggers raving about how good it is. Unfortunately, this book fell short of the hype for me and I think part of the reason is because I expected too much from it. The novel as a whole was really well-written and enjoyable. It was refreshingly in the sense that the book actually focused on the power of this incredible friendship between the two protagonists. Wein didn't mask the horrors of war behind some love story, it was something different from the norm of the YA market. The pace was a little slow for my liking, most of it was just recounting past events. The book was also very technical, Wein goes into a lot of details about planes and war, great if you love that kind of stuff, not so great if you don't. I personally didn't mind the details. I absolutely loved the ending, it really took my breath away ( I might have shed a couple of tears), it was the best ending that a book like this could have been given. Devastating but not unreasonable and completely unforgettable, I have to give Wein credit for such a spectacular ending.
The book is written in two parts, the first from Verity's perspective (not her actual name -duh, I'll leave that as something for you guys to find out) and the second from Maddie's perspective. I adoredVerity as a character, she was so brave. For her to keep her head up during what she had to endure, I honestly salute this girl. I grew to really like Verity and while I couldn't relate to her, I could connect with her and understand her. Maddie, on the other hand, was definitely the less vibrant of the two characters, we have very different personalities however her section of the book was easier to read. I admire Maddie for what she had to do, it would have absolutely wrecked her but she did the right thing (haha vague!). I think Wein did a fantastic job portraying these two very different characters and she's developed this beautiful and believable friendship between the two girls.
As you can see, there isn't much I didn't like about this book but I just felt that it fell short of my expectations. I expected more from Code Name Verity but overall it was very enjoyable and heart-wrenching read. I would definitely recommend this book because it's different from the other books on the market, there is no love story, it's set in a very dark part of history and the friendship and sacrifice between the two girls is incredible. Definitely worth a read!